IGREC INGENIERIE in the media
They talk about our projects
Notre projet de rénovation des Terrasses Boieldieu à la Défense :
Livraison du groupe scolaire Justin Oudin à Issy les Moulineaux
Cyberarchi 04-11-2013
L'agence SOA architectes, associée à IGREC INGENIERIE, remporte la construction de 55 logements sociaux dans Paris.
Batiactu-2013-07-30.pdf
LES ECHOS : SORIN Leader mondial dans la conception et le développement de technologies médicales en chirurgie cardiaque
PUBLI REDACTIONNEL LES ECHOS DU 16 JANVIER 2013.pdf
BFM TV : l'émission Goût de Luxe a testé le SPA du palace parisien le Shangri-La dans son émission du 30 décembre 2012
LE MONITEUR : Projet Urbain
Dans son édition du 8 juin 2012, LE MONITEUR communique sur le Projet Stratégique de Développement "Ferney-Voltaire / Grand Saconnex"
ARTICLE LE MONITEUR DU 8 JUIN 2012 PAGE 33.pdf
LE MONITEUR : Interview de Jean-Paul BALAGUE
Dans son cahier spécial Ingénierie du 6 avril 2012, LE MONITEUR a interviewé Jean-Paul BALAGUE, notre Directeur Général, à propos de l'ingénierie des projets complexes.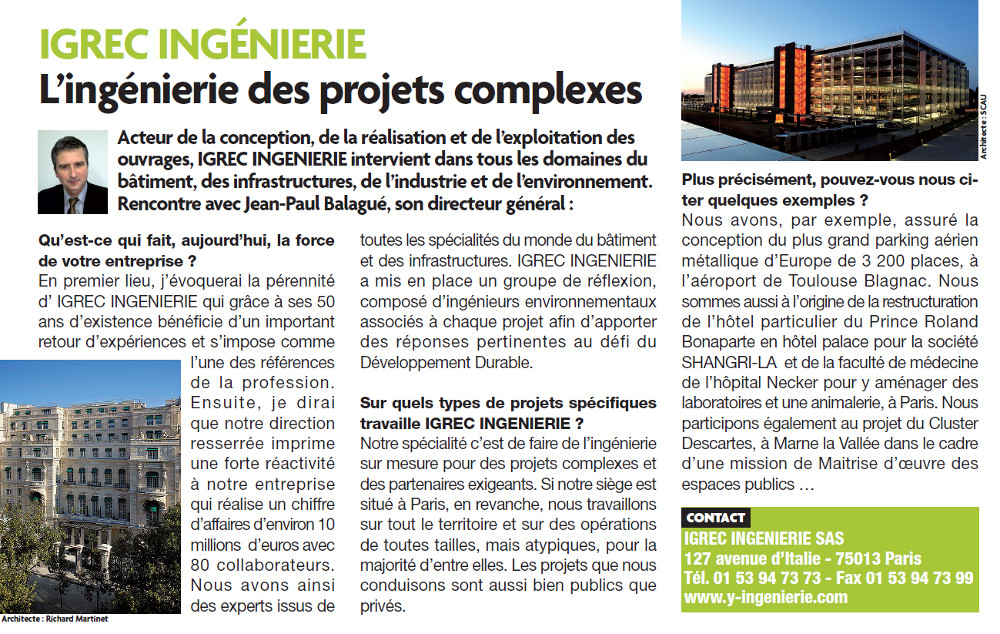 University Pierre & Marie Curie Paris
IGREC INGENIERIE participates in the international team in charge of the new research building of Jussieu Campus.
SHANGRI-LA Hotel, Paris
Opened since december 2010, the new parisian luxury hotel sparked off press enthousiasm.
Shangri-La Hotel in Paris is a symbol of luxury tourism radiant expansion in Paris.
(Reportage - in French - of one of the most popular information broadcast on French TV)
Figaro Magazine Shangri-La.pdf : Le Figaro Magazine - 27/10/2010 - Shangri-La : un nouveau palace à Paris
Descartes Urban and Competitive Cluster in Marne-la-Vallée
IGREC INGENIERIE and ATELIERS LION architects won the international urban and landscape project management competition for the Descartes Competitive Cluster. As part of the Grand Paris project, the ETABLISSEMENT PUBLIC D'AMÉNAGEMENT DE MARNE LA VALLÉE's Descartes Competitive Cluster is the excellence centre for the creation of the new city concept and the promotion of sustainable construction.